Temple Run
1.10.1
Have Non-Stop Fun Playing This Endless Running Game!
Temple Run is an addictive running game in which you have to outrun the demon monkeys that are chasing after you since you have taken the idol from the sacred temple. If you love playing action and arcade games then you will certainly find this endless running game up to your liking. It offers you the chance to become the explorer who has just stolen the cursed idol and is now being chased by evil demon monkeys. It is your job to run away from them as fast as you avoiding the different obstacles that come in your way. Temple Run has an entertaining gameplay and nice graphics which are sure to keep you hooked for hours on end.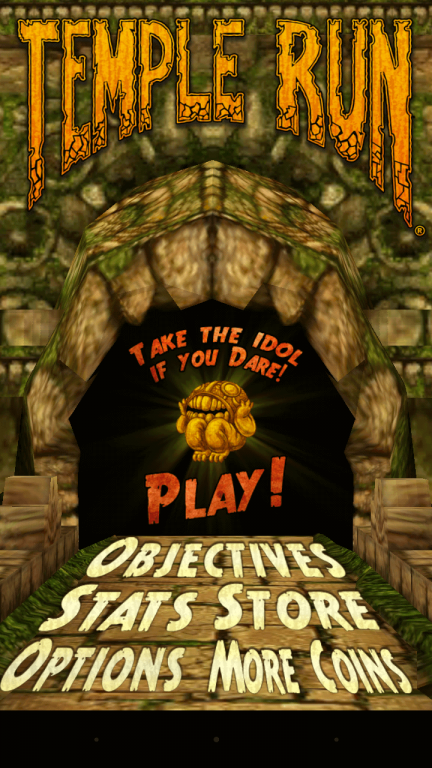 The home screen of this endless running game provides you links to all of its features. These features include Objectives, Stats, Store, Options and More Coins. The Objectives section is where you will find a list of the goals that you have to achieve while playing Temple Run. Stats area is where the statistics of your latest run, as well as your total runs, is listed. The Store is the section from where you can buy power ups that can be used throughout the game to enhance your chances of survival. Options and More Coins are sections dedicated for tweaking the audio controls of the game and for buying coins using real money respectively.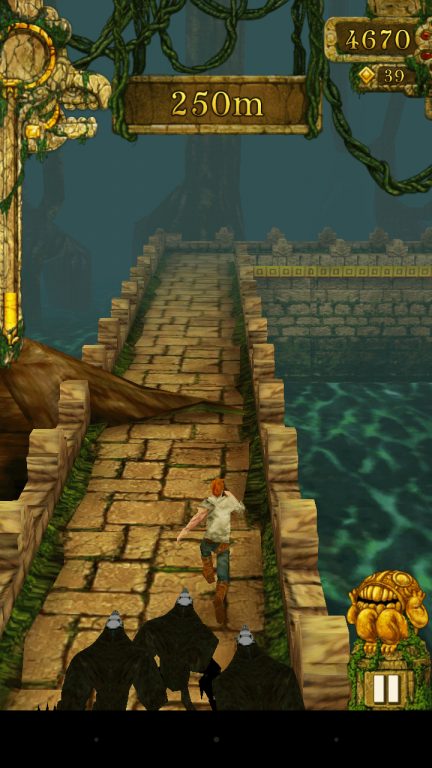 Your objective in Temple Run is to survive as long as possible and run as far as you can. To evade the obstacles that come in your way while playing this endless running game, you will have to slide, jump and turn quickly. You can do this by swiping on your phone's screen. For instance, to slide, you will have to swipe down. For jumping and turning, you will need to swipe up and sideways respectively. Aside from avoiding obstacles, you will have to collect the coins that come up while you are running away from the monsters chasing after you. These coins are important as they will help you in buying power ups.
The game screen of Temple Run gives you the chance to monitor your progress as you are running. You can find your score and the number of coins you have collected on the top-right corner of the screen. You will be notified about the distance you have covered after every 250m. This notification will appear on the top-middle portion of the screen.
There is a bar located on the left-hand side of the screen as well which is going to fill up as you collect coins. Once this bar is full, you will be able to use a power up of your choice. On the bottom-right of the screen, there is a pause button located which can be used for stopping the game at any moment. You can resume the game from where you left off by clicking the resume button.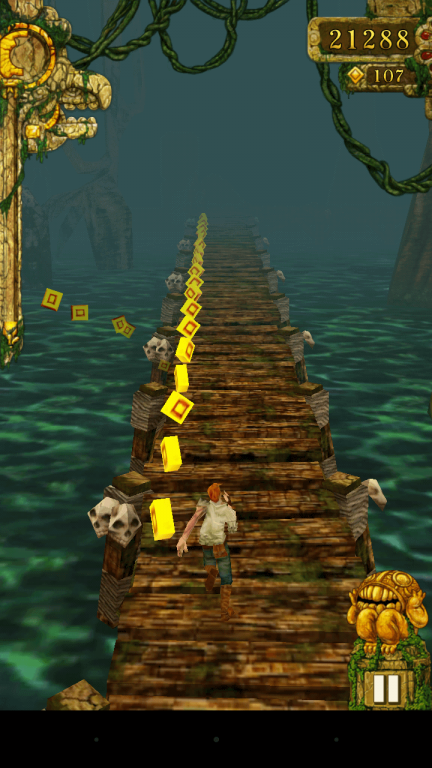 After every run, you will be provided a scorecard that is going to list down your points tally, the distance you have covered, the coins you have accumulated and the multiplier you had achieved during your run. Options for running again and returning to the main menu are also located on this scorecard.
Features:
Entertaining gameplay
Nice graphics
Easy-to-understand controls
Run as far as you can
Changing environments
Slide, jump and turn to avoid obstacles
Collect coins for buying power ups
Lots of different characters to unlock
Various challenging objectives
Find out all your stats
Conclusion:
Temple Run is a gaming app that is targeted towards people who like thrilling and action-packed games. It offers them the chance to put their reflexes to the test and find out if they are fast enough to avoid being caught by the demon monkeys. The simple controls, changing environments and entertaining gameplay make this endless running game a lot of fun to play.
---
Add a review
Tell us your experience with
Temple Run
1.10.1
RELATED PROGRAMS
Our Recommendations
---
---
---
---